WHAT CUSTOMERS HAVE TO SAY
From Jon Hubbell
Even though we fly a small single engine aircraft Innisfree JC rolled out the red carpet for us. They brought our rental car right to the airplane so we could transfer our baggage! They moved the aircraft into a secure hangar for 3 nights during tropical storm Cindy! Also they have a very low ramp fee for a big airport! The staff was great a super helpful and knowledgeable! Goodbye KDTS Hello KPNS! Thank you! We will be back!

From Bob Vint
After my recent travel to PNS, I can't add any more complements than those listed below. Great place, fair fuel prices, wonderful service and a clean modern facility to refresh in.

From Kevin Saunders
The Innisfree Jet Center in Pensacola is fantastic. Their ground support personnel are outstanding - fast, professional, and very helpful. The FBO is very nice, accommodating, and practical. Upon my first visit, Pensacola ground directed me there inappropriately. My reservation and rental car was at the opposing FBO. The team members at Innisfree quickly got me unloaded, and offered to get my rental car from the other FBO. When they were informed the rental car provider failed to deliver my car, they immediately got me into one of theirs within minutes. I truly appreciate their pulling mynplane to the front door area for loading. Their fuel prices are excellent, and there is always a red carpet for when you enter and exit your aircraft. I will use no other FBO when flying to the Pensacola area. This organization is A++

From David Savage
Had a great experience. Emailed a few days ahead to inquire about services and check on rental car. Response next day. Had literal red carpet rolled out for us. Car to planeside and met Sadie the mascot Golden Retriever who sealed the deal for us. Took very nice care of guy flying a small piston twin (Baron 55). I highly recommend Innisfree at KPNS.
From Tom Carr
This is a great FBO. Everyone from the General Manager to the line service guys to the CSRs was friendly and helpful. After parking us, they noticed that there were storms in the area and said they'd put the airplane in a hangar if it looked threatening. They arranged a rental car and hotel for us. I travel all over the world and this is a truly superior FBO!
From Peter Castine
Wonderful staff and service - top notch. We only tied down for the night and purchased fuel, but were treated as if we were the most important customers they had! Will definitely visit there again!!
From Bob
An excellent FBO with an outstanding facility and even better customer service. Their mascot, Sadie was also a great addition to the trip. I would highly recommend Innisfree Jet Center on your next trip to KPNS.
Guaranteed Fuel Prices
Phillips 66 Dealer
Operating Hours: 0600-2200 (CT) • 7 days a week.
(after hour service subject to call out fee's)
Support Services
· 100LL Service
· Jet-A Service
· Fuel System Icing Inhibitor (Prist)
· Aircraft Parking
· Catering 3rd Party
· Catering Refrigeration
· Concierge Services
· Dishwashing
· Flight Planning
· Fuel Farm
· GPU's
· Helicopter Handling
· Hotel Booking
· Ice
· International Trash Disposal
· Lavatory Service
· Limousine Service
· Medical/Ambulance Capabilities
· Overnight Hangar
· Tie Downs
· Vacuum
· Weather Planning Service (WSI)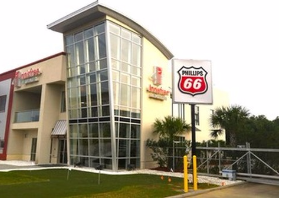 Features
· 24 Hour Surveillance
· Balcony View of Runways
· Bottled Water
· Candy
· Complimentary Magazines
· Computers
· Conference Room
· Cookies
· Courtesy Crew Cars
· Customs On-Site
· Fax Machine
· Fruit
· Hot Chocolate
· Newspapers
· Passenger Lounge
· Pet Friendly
· Printer
· Putting Green
· Ramp Side Vehicle Access
· Restrooms
· Satellite TV
· Short Term Vehicle Parking
· Shower
· Washer and Dryer
· WiFi