"At the end of life, what really matters is not what we bought but what we built, not what we received, but what we shared, not our competence and not our success, but our significance. Live a life of love and kindness and also know that no act of kindness is ever wasted. Always remember, purpose is the lamp which shows you the path on you journey called life. There is no beginning or end to your dreams or plans. Life is a journey from moment to moment. Live each moment to its fullest and purpose. This was my purpose."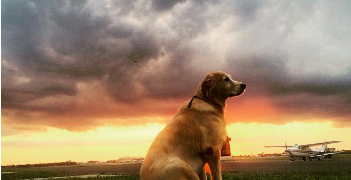 In Loving Memory of Sadie
Name: Sadie Melville "The Aviation Dog"
Age: 13
Aviation Service: 10 years working the flight line
Job Title: FBO Mascot – Greets all aircraft, pilots, and customers on arrival.
Motto: "You never know what's going on in one's life. So, if we can make someone smile even just for one minute…then we've done our job."